In September 2015 the 'Sustainable Development Goals' (SDGs) were agreed - an ambitious set of targets aiming to eradicate poverty, change unsustainable consumption patterns and facilitate sustained and inclusive economic growth, social development and environmental protection over the next 15 years (2015-2030). On Friday 30th October 2015, GfGD organised the first major gathering of geologists anywhere in the world to consider our role in the SDGs. On Friday 4th November 2016, during our 4th Annual Conference, 130+ geologists gathered at the Geological Society of London to continue discussing our role in the SDGs.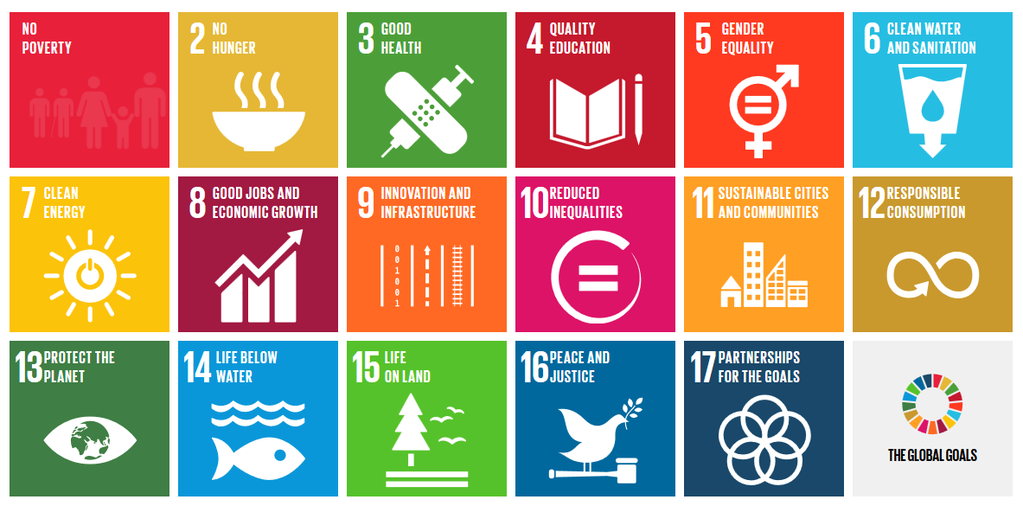 We explored the themes of PERSONAL ENGAGEMENT and BEST PRACTICE in the SDGs:
Personal Engagement

:

 GfGD aims to mobilise geologists to engage in development. We want to see a culture shift in the profession so that each member of our community is using their skills and the opportunities presented through their workplace to support the fight against poverty. The first running theme throughout our 2016 conference was 'personal engagement', helping geologists at all stages of their career understand how they can contribute to the SDGs immediately as well as throughout their careers. 
Best Practice

: 

GfGD also aims to equip geologists to engage effectively in development, having maximum positive impact. We want geologists engagement in development to be of the highest standard, so as to best serve society and our profession. During this conference, a second running theme was what 'best practice' means in the context of the SDGs. In 2015 we explored the many ways that geoscience can support the SDGs, at our 2016 event we took this a step further to consider what good (vs. bad) engagement looks like in different contexts.
Reports, Media and Resources
Programme 

Session 1: Geoscience and Development - Lessons Learned
Joel Gill (Director, Geology for Global Development)
Session 2: Geoscience and Development - Exploring Best Practice (group activities)
In this session we explored the different factors required to engage effectively and positively in international development. Our responsibility to engage in the SDGs includes a responsibility to do so in a way that best serves communities and organisations we partner with in the Global South. Speakers will be drawn from both geoscience and other development backgrounds, reflecting on issues including technical excellence, community empowerment, social enterprise and effective communication.
Group 1: Vijay Bhopal (Co-Director, Scene). Scene is a Social Enterprise focused on strengthening communities through consultancy, research and development of ICT products. They work across the renewable energy, energy access and ICT in development sectors. Read more.... Themes included: renewable energy; ICT; community empowerment; social enterprise.
Group 2: Stephanie Gill (Policy Lead for Sahel Region & Ebola Recovery, Tearfund). Stephanie led a group focusing on best practice when considering small scale water projects in rural Tanzania. Themes included: water; community engagement; project management; social science research skills.
Group 3: Solmaz Mohadjer (Founder, Parsquake). Solmaz led a group focusing on earthquake education in Central Asia. Themes included natural hazards, education, cross-cultural communication, and public engagement. 
Session 3: Mining and the SDGs (mini presentations and panel discussion)
This session explored the role of mineral exploration and development in delivering the Sustainable Development Goals. Many geoscience graduates are employed in the natural resources sector, contributing for example as exploration geologists, hydrogeologists, engineering geologists, and geochemists. Individual talks explored themes such as stewardship, resourcing future generations, transparency, and peace-building.
Edmund Nickless (Chair, IUGS New Activities Strategic Implementation Committee)

Anne Lindsay (Lead Analyst (Private Sector), CAFOD)

Rob Pell and Milly Owens (Postgraduate Research Students, Camborne School of Mines, University of Exeter)
Session 4: Opportunities to Get Involved (interactive marketplace)
Water in Myanmar - Coastal Hydrogeological Aid Projects (GfGD Bristol, with support from GfGD Southampton)
Humanitarian and Development Mapathons (Janet Chapman, Tanzania Development Trust)
Resilience to Volcanic Hazards in Guatemala (GfGD National Project) 
Young Scientists in DRR Platform (Lydia Cumiskey, Middlesex University London) 
Water Youth Network (Lydia Cumiskey

, Middlesex University London)

Parsquake - Earthquake Education in the Global Persian Community (Solmaz Mohadjer)
Mining, Environmental Protection and Development (CAFOD)
International Citizen Service (Catherine Honor, University of the West of England).
Session 5: Ethical Dimensions of Transdisciplinary Approaches in Seismic Risk Communication (Keynote Lecture)
Professor Iain Stewart (Director, Sustainable Earth Institute, Plymouth University)
Session 6: 
GfGD and the SDGs – Our Vision and Strategy to Mobilise and Equip the Geoscience Sector to Engage in Development